Tower Garden ® simplifies traditional gardening, using a unique vertical garden system that makes it easy to grow your own fresh fruits and vegetables at home.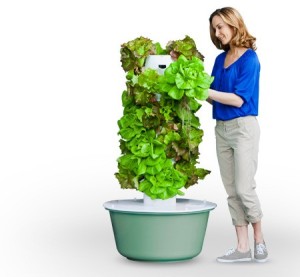 Tower Garden is a state-of-the-art, aeroponic vertical garden that gives you more control of your health by making it easy to grow vegetables and fruits at home.
3 steps to simpler gardening with a vertical aeroponic system:

1. Setup
Tower Garden Growing System comes with everything you need to start growing, including a seed starter kit and specially formulated plant food. It takes most people about 20-25 minutes to assemble, following the step-by-step instructions included with the product.
2. Grow
You'll start seedlings using the seed kit provided with your purchase; and when they are ready (approximately 1-3 weeks later, depending on the plant), you'll transport them into your Tower Garden. Note: if you don't have time to start your own plants or prefer not to, it's possible to use seedlings purchased from a local garden center.
Once your seedlings are in Tower Garden, they will be nourished with the Tower Garden Mineral Blend nutrient solution to grow. Learn more about the Tower Garden's aeroponic growing process.
From checking water and pH levels to cleaning the pump filter, there are a few basic tasks you'll need to complete occasionally to maintain your Tower Garden.
3. Harvest
Thanks to its proprietary aeroponic growing system and Tower Garden Mineral Blend, your Tower Garden will grow the produce of your choice in less time than it takes to grow in soil.* You'll harvest your fresh vegetables and fruits on a regular basis by cutting the produce off when it is ready.
*NASA research suggests aeroponic growing takes about half the time of traditional growing. Read more at NASA Technology.