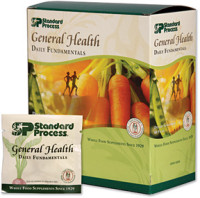 Make life simpler.
Whole food supplements packaged in handy, portable packs.
General Health Daily Fundamentals provide convenient maintenance support needed to for optimal health made from whole food ingredients.
Each pack contains:
Catalyn – supplies vitamin and minerals from whole foods
Trace Minerals B12 – contains all of the trace minerals plus B12
Tuna Omega 3 Oil – contains DHA & EPA omega 3 fatty acids to support brain, eye and joint health
Each box provides 60 packs for a 30-day supply of high-quality whole food supplements.
These packets help to ensure a balance intake of important vitamins, minerals, and associated nutritional factors and can easily be incorporated into any lifestyle.
Order General Health Daily Fundamentals conveniently: